2-CH UART To Ethernet Converter
2-CH UART To Ethernet Converter, Serial Port Transparent Transmission Module
SKU: 20655
Part Number: 2-CH UART TO ETH
Brand: Waveshare
Package content:
2-CH UART TO ETH x1
Weight: 0.012 kg
2-CH UART TO Ethernet Converter
Serial port transparent transmission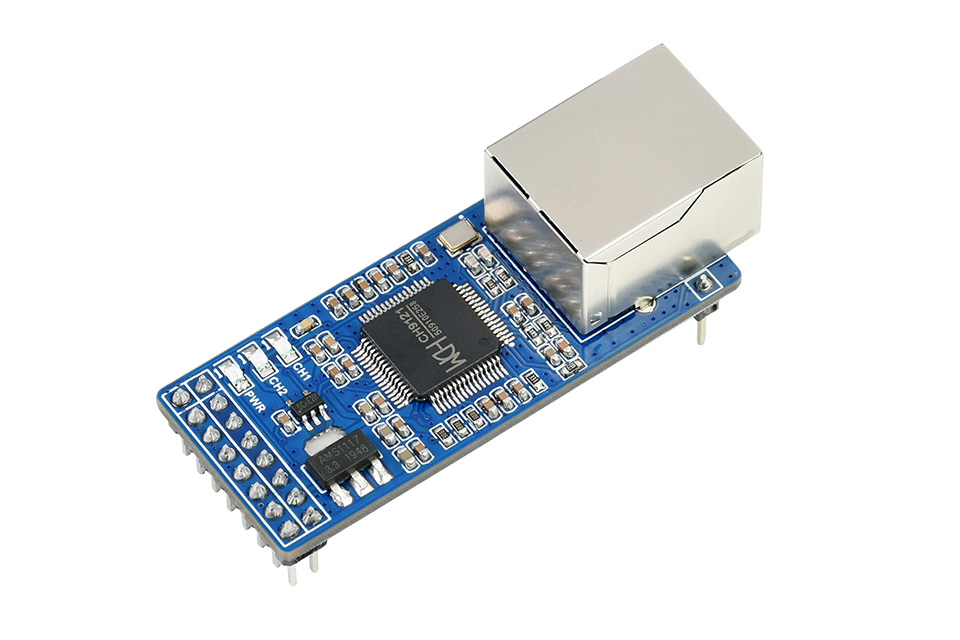 Features At A Glance
The 2-CH UART TO ETH provides an easy way to communicate between UART TTL and RJ45 Ethernet, allowing bi-directional transparent data transmission. It is easy to use, along with features like fast data rate, low power consumption, high stability, suits applications such as safety & security, IoT, and so on.
– Embedded Ethernet MAC and PHY layers
– Bi-direction transparent data transmission between UART and Ethernet
– 10/100M, full-duplex/half-duplex auto-negotiation Ethernet interface, 802.3-compliant
– Auto-MDI/MDIX, detect and switch cable type automatically
– Supports DHCP auto-obtained IP and DNS domain access
– Network parameter configuration like chip operating mode, port, IP, via host computer software or UART command
– Four operating modes: TCP CLIENT, TCP SERVER, UDP CLIENT, UDP SERVER
– 2-CH UART concurrent operation, standalone transparent transmission for each channel
– Full-duplex or half-duplex UART communication, supports RS485 RX/TX auto switch
– Supports virtual serial port software (provided)
– KEEPALIVE mechanism support
– Comes with development resources and manual (examples for Pico/Raspberry Pi/Arduino/STM32)
Specifications
| | | | |
| --- | --- | --- | --- |
| OPERATING VOLTAGE | 3.3V/5V | OPERATING CURRENT | 140mA |
| OPERATING MODE | TCP/UDP | UART BAUDRATE | 300bps ~ 921.6Kbps |
| UART TTL LEVEL | 3.3V / 5V compatible | STORAGE TEMPERATURE | -55℃ ~ 125℃ |
| OPERATING TEMPERATURE | -40℃ ~ 85℃ | DIMENSIONS | 53.00 × 22.00mm |
Control Interface
Supports Host Boards Including Raspberry Pi/Arduino/STM32…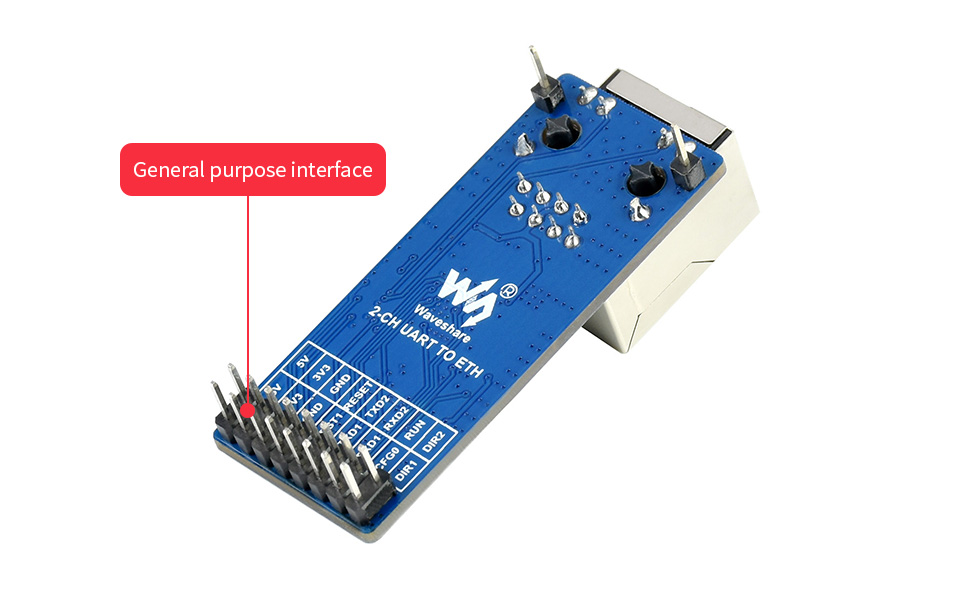 Application Example
Bi-Direction Transparent Transmission Between UART TTL And Wired Ethernet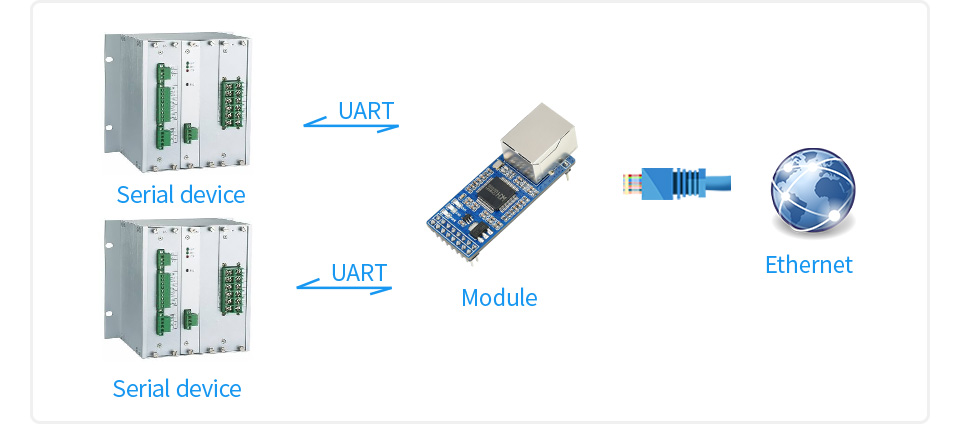 Extend The Communication Distance For Serial Devices

Manage Multi Serial Client Devices Remotely Via One Web Server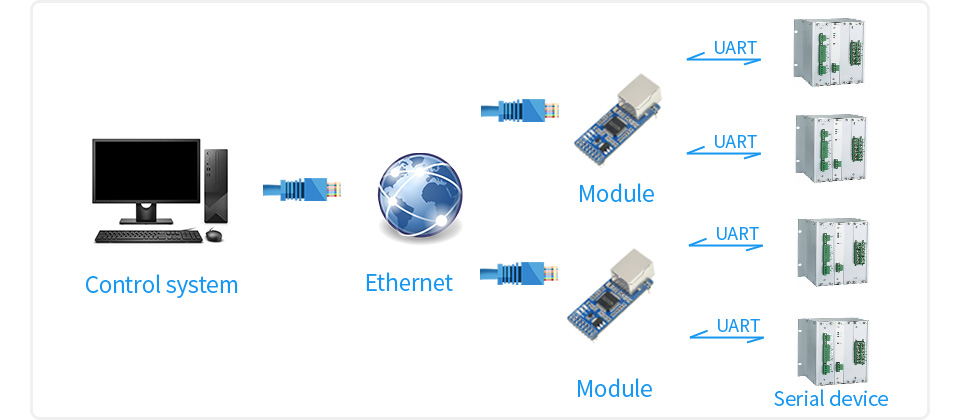 Manage Serial Server Remotely Via Multi Web Clients

What's On Board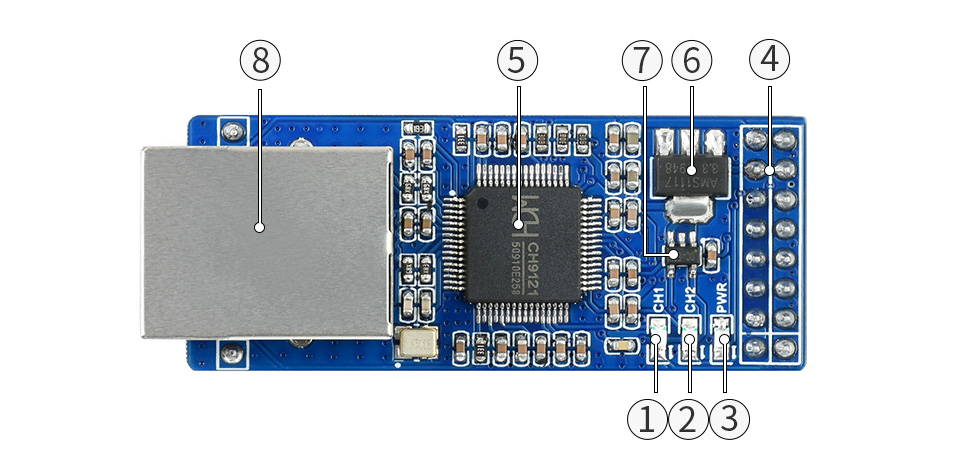 UART 1 connection status indicator
UART 2 connection status indicator
Power indicator
CH9121 control pins
CH9121 driver
AMS1117-3.3V power supply IC
RT9193-18GB power supply IC
Ethernet port

5V / 3V3
power positive, use any pin of 5V/3.3V pins for power supply
GND
ground
RST1
external reset input, low active
RESET
restore to factory setting, detected when chip poweron, low active
TXD1
asynchronous UART 1 data output (enabled by default)
TXD2
asynchronous UART 2 data output 

(disabled by default)

RXD1
asynchronous UART 1 data input (enabled by default)
RXD2
asynchronous UART 2 data input 

(disabled by default)

CFG0
UART config mode, low level to enter configuration, high level to exit configuration
RUN
Operating status indicating pin
DIR1
UART 1 RS485 RX/TX switch (connects to external RS485 controller)
DIR2
UART 2 RS485 RX/TX switch (connects to external RS485 controller)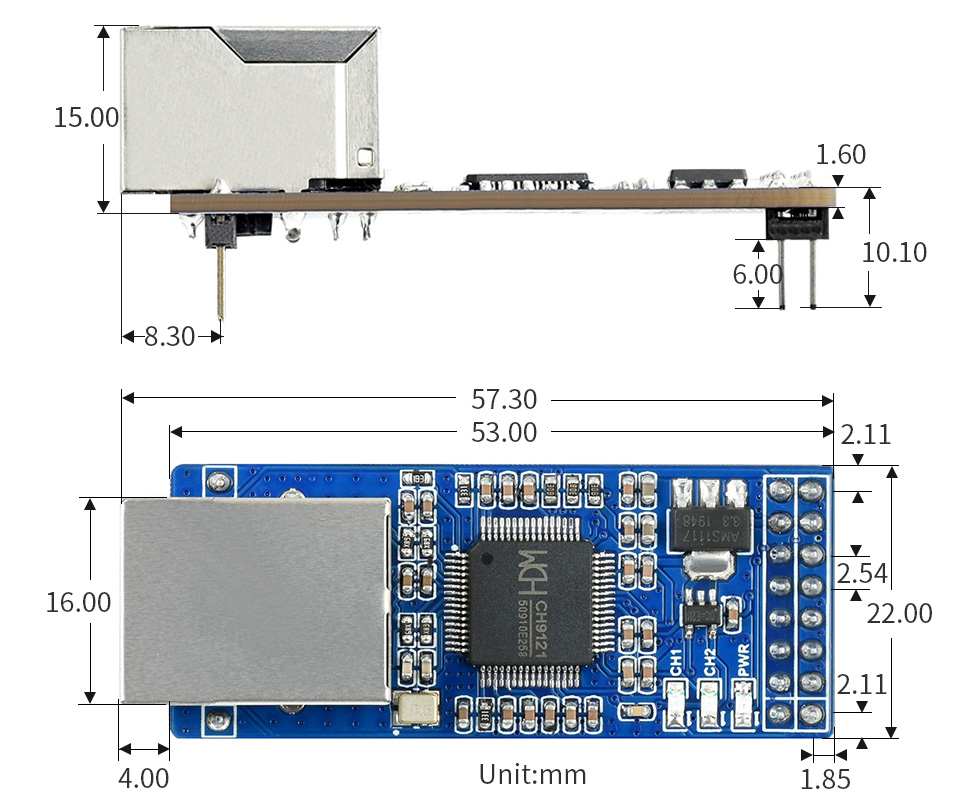 Resources & Services


---
* Resources for different product may vary, please check the wiki page to confirm the actually provided resources.
Лавлах утас: 99198321
Хаяг : Улаанбаатар хот, Чингэлтэй дүүрэг, Компьютер ланд, 3-н давхар, 12 тоот
"ЧИП ЭЛЕКТРОНИКС" ХХК
© Copyright – 2023 chip.mn