GSM/GPRS/Bluetooth HAT for RPi
GSM/GPRS/Bluetooth HAT for Raspberry Pi, Based on SIM800C
SKU: 16157
Part Number: SIM800C GSM/GPRS HAT
Brand: Waveshare
UPC: 614961953994
Package content:
SIM800C GSM/GPRS HAT x1
GSM Antenna x1
Bluetooth Antenna x1
USB type A plug to micro plug cable x1
RPi screws pack (2pcs) x1
Weight: 0.076 kg
Overview
This is a handy, low power Raspberry Pi HAT which features multi communication functionalities: GSM, GPRS, and Bluetooth.
It allows your Pi to easily send messages, connect to wireless Internet, transfer data via Bluetooth, and so on.
Features
– Standard Raspberry Pi 40PIN GPIO extension header, supports Raspberry Pi series boards, Jetson Nano
– Supports SMS, GPRS, DTMF, HTTP, FTP, MMS, email, etc.
– Bluetooth 3.0, supports data transferring through Bluetooth
– UART interface, for connecting host control boards like Arduino/STM32
– Onboard voltage level translator, 3.3V by default, switch to 5V via jumper
– 2x LEDs for indicating the module working status
– SIM card slot for 1.8V/3V SIM card
– Baudrate auto detection (1200bps ~115200bps)
– Control via AT commands (3GPP TS 27.007, 27.005, and SIMCOM enhanced AT Commands)
– Supports SIM application toolkit: GSM 11.14 Release 99
– Comes with development resources and manual (examples for Raspberry Pi/Jetson Nano/Arduino/STM32)
GSM/GPRS
– Band

GSM 850/EGSM 900/DCS 1800/PCS 1900 MHz
Quad-band auto search
Compliant to GSM phase 2/2+

– Emitting power

Class 4 (2W @ GSM 850/EGSM 900 MHz)
Class 1 (1W @ DCS 1800/PCS 1900 MHz)

– GPRS connectivity

GPRS multi-slot class 12 (default)
GPRS multi-slot class 1~12 (configurable)

– GPRS data feature

Downlink speed: max 85.6kbps
Uplink speed: max 85.6kbps
Coding schemes: CS-1\CS-2\CS-3\CS-4
Supports PAP (Password Authentication Protocol) for PPP connection
Supports PBCCH
Supports USSD

– SMS

Supports: MT/MO/CB/Text/PDU mode
SMS storage: SIM card
Bluetooth
Integrates AT commands
Compliant to Bluetooth specification3.0 + EDR
Supports SPP, OPP, HFP/HSP, etc.
Misc
Power supply: 5V (USB port OR pinheader)
Logic level: 5V / 3.3V (default)
Operating temperature: -40°C ~ 85°C
Storage temperature: -45°C ~ 90°C
Dimensions: 30.2mm x 65mm
Dimension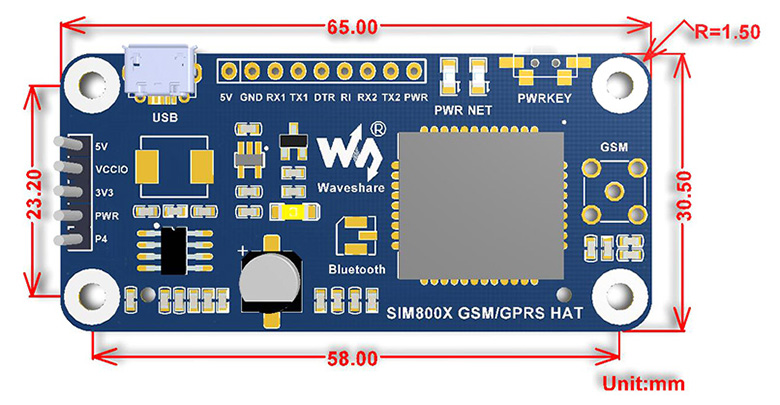 Development Resources
Wiki : www.waveshare.com/wiki/SIM800C_GSM/GPRS_HAT
Recommendation
CP2102 USB UART Board (micro) is recommended for easy testing.
Лавлах утас: 99198321
Хаяг : Улаанбаатар хот, Чингэлтэй дүүрэг, Компьютер ланд, 3-н давхар, 12 тоот
"ЧИП ЭЛЕКТРОНИКС" ХХК
© Copyright – 2021 chip.mn