4G/GSM/GPRS/GNSS HAT for RPi, Global Ver
4G / 3G / 2G / GSM / GPRS / GNSS HAT for Raspberry Pi, LTE CAT4, Based on SIM7600G-H
SKU: 17372
Part Number: SIM7600G-H 4G HAT
Brand: Waveshare
UPC: 614961955707
Package content:
SIM7600G-H 4G HAT x1
LTE Antenna x1
GPS External Antenna (B) x1
USB type A plug to micro plug cable x2
RPi screws pack (2pcs) x1
Weight: 0.25 kg
Applicable Region
For different regions, we provide multiple 4G HATs to choose from:
SIM7600A-H 4G HAT: mainly applicable in North America (US, CA)
SIM7600E-H 4G HAT: mainly applicable in Southeast Asia, West Asia, Europe, Africa
SIM7600CE 4G HAT: mainly applicable in China
SIM7600G-H 4G HAT: the global version
Please check the supported bands according to your local service provider, select the proper one when placing order.
Overview
The SIM7600G-H 4G HAT is a 4G/3G/2G communication and GNSS positioning module, which supports LTE CAT4 up to 150Mbps for downlink data transfer. it is pretty low power consumption.
You can connect this 4G module with computer to surf the Internet, or attach it onto Raspberry Pi to enable functions like 4G high speed connection, wireless communication, making telephone call, sending SMS, global positioning, etc.
Features
– Standard Raspberry Pi 40PIN GPIO extension header, supports Raspberry Pi series boards, Jetson Nano
– Supports dial-up, telephone call, SMS, mail, TCP, UDP, DTMF, HTTP, FTP, etc.
– Supports GPS, BeiDou, Glonass, LBS base station positioning
– Onboard USB interface, to test AT Commands, get GPS positioning data, and so on
– Onboard CP2102 USB to UART converter, for serial debugging
– Breakout UART control pins, to connect with host boards like Arduino/STM32
– SIM card slot, supports 1.8V/3V SIM card
– TF card slot for storing data like files, messages, etc.
– Onboard audio jack and audio decoder for making telephone call
– 2x LED indicators, easy to monitor the working status
– Onboard voltage translator, operating voltage can be configured to 3.3V or 5V via jumper
– Baudrate: 300bps ~ 4Mbps (default: 115200bps)
– Autobauding baudrate: 9600bps ~ 115200bps
– Control via AT commands (3GPP TS 27.007, 27.005, and V.25TER command set)
– Supports SIM application toolkit: SAT Class 3, GSM 11.14 Release 99, USAT
– Comes with development resources and manual (examples for Raspberry Pi/Jetson Nano/Arduino/STM32)
Communications Specifications
LTE
WCDMA / TD-SCDMA / CDMA 2000
EDGE
GSM/GPRS
Band
SIM7600A-H:
LTE-FDD B2/B4/B12
SIM7600A-H:
UMTS/HSPA+ B2/B5
Not available
SIM7600E-H:
LTE-FDD B1/B3/B5/B7/B8/B20
LTE-TDD B38/B40/B41
SIM7600E-H:
UMTS/HSPA+ B1/B5/B8
GSM/GPRS/EDGE 900/1800 MHz
SIM7600CE-T:
LTE-TDD B38/B39/B40/B41
LTE-FDD B1/B3/B8
SIM7600CE-T:
UMTS/HSDPA/HSPA+ B1/B8
TD-SCDMA B34/B39
CDMA 1X/EVDO BC0
SIM7600G-H:
LTE-TDD B34/B38/B39/B40/B41
LTE-FDD B1/B2/B3/B4/B5/B7/B8
/B12/B13/B18/B19/B20/B25/B26/B28/B66
SIM7600G-H:
UMTS/HSDPA/HSPA+ B1/B2/B4/B5/B6/B8/B19
SIM7600G-H:
GSM/GPRS/EDGE 850/900/1800/1900MH
Generation
4G
3G
2.5G
2G
Emitting power
0.25W
0.5W@EGSM900
0.4W@DCS1800
2W@GSM900
1W@DCS1800
Data Speed
LTE CAT 4
Uplink≤50 Mbps
Downlink≤150 Mbps
UMTS
Uplink≤384Kbps
Downlink≤384Kbps
EDGE
Uplink≤236.8kbps
Downlink≤236.8kbps
GPRS
Uplink≤85.6kbps
Downlink≤85.6kbps
HSPA+
Uplink≤5.76Mbps
Downlink≤42Mbps
SIM Card
Normal SIM (Not Included)
GNSS Specifications
– Receiver type
– Sensitivity

Tracking: -159 dBm (GPS) / -158 dBm (GLONASS) / TBD (BD)
Cold starts: -148 dBm

– Time-To-First-Fix (open air)

Cold starts: <35s
Hot starts: <1s

– Accuracy
SMS and Audio Specifications
– SMS

Supported types: MT, MO, CB, Text, PDU
Storage: USIM card and ME (default)

– Audio feature

Supports echo cancellation
Supports noise reduction
Other Specifications
– Power supply: 5V
– Operating voltage: 5V/3.3V (configured via jumper)
– Operating temperature: -30°C ~ 80°C
– Storage temperature: -45°C ~ 90°C
– Dimension: 56.21mm x 65.15mm
What's on Board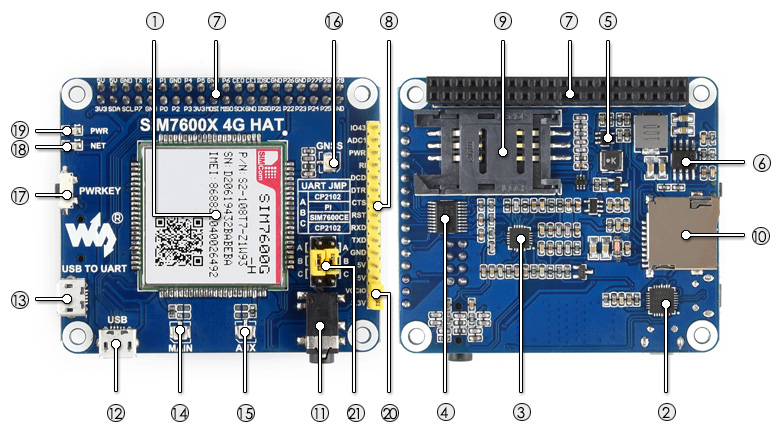 SIM7600G-H
CP2102 USB to UART converter
NAU8810 audio decoder
TXS0108EPWR voltage translator: translates 3.3V/5V into 1.8V
MP2128DT power chip
MP1482 power chip
Raspberry Pi GPIO header: for connecting with Raspberry Pi
SIM7600 control interface: for connecting with host boards like Arduino/STM32
SIM card slot: supports 1.8V/3V SIM card
TF card slot: allows file/SMS/… storage
3.5mm earphone/mic jack
USB interface: for testing AT Commands, getting GPS positioning data, etc.
USB to UART interface: for serial debugging, or login to Raspberry Pi
MAIN antenna connector
AUX antenna connector
GNSS antenna connector
Power switch
Network status indicator
Power indicator
Operating voltage selection jumper:
VCCIO – 3.3V: set operating voltage as 3.3V
VCCIO – 5V: set operating voltage as 5V
UART selection jumper:
A: access Raspberry Pi via USB to UART
B: control the SIM7600 by Raspberry Pi
C: control the SIM7600 via USB to UART
Dimension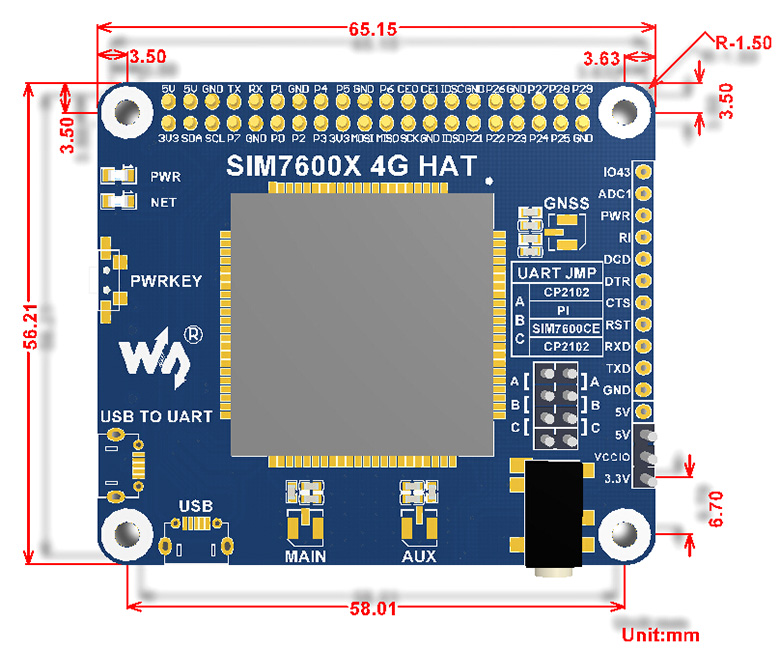 Development Resources
Wiki : www.waveshare.com/wiki/SIM7600G-H_4G_HAT
Лавлах утас: 99198321
Хаяг : Улаанбаатар хот, Чингэлтэй дүүрэг, Компьютер ланд, 3-н давхар, 12 тоот
"ЧИП ЭЛЕКТРОНИКС" ХХК
© Copyright – 2021 chip.mn