Serial Expansion HAT for RPi, 2ch UART,8 GPIOs
Serial Expansion HAT for Raspberry Pi, I2C Interface, Provides 2-ch UART and 8 GPIOs
SKU: 15667
Part Number: Serial Expansion HAT
Brand: Waveshare
UPC: 614961953499
Package content:
Serial Expansion HAT x1
RPi screws pack (2pcs) x1
PH2.0 6PIN wire x2
Weight: 0.016 kg
Overview
There is only 1-ch UART port on the original Raspberry Pi, once it is used for terminal debugging, no more other serial device is allowed. What a poor situation. Now you have 2-ch extra UART, plus 8 programmable GPIOs, just bring this Serial Expansion HAT.
Features
– Standard Raspberry Pi 40PIN GPIO extension header, supports Raspberry Pi series boards
– Onboard SC16IS752, expands 2-ch UART and 8 programmable GPIO through I2C, no extra pin required
– It is stackable up to 16 this modules by setting the address jumper, that means up to 32-ch UART
– Onboard multi LEDs for indicating the UART working status
– Reserved I2C control pins, allows to work with other control boards
– Comes with development resources and manual (examples in C and python)
Specifications
– Operating voltage: 3.3V
– Expansion chip: SC16IS752
– Control interface: I2C
– Dimension: 65mm x 30mm
– Mounting hole size: 3.0mm
Dimensions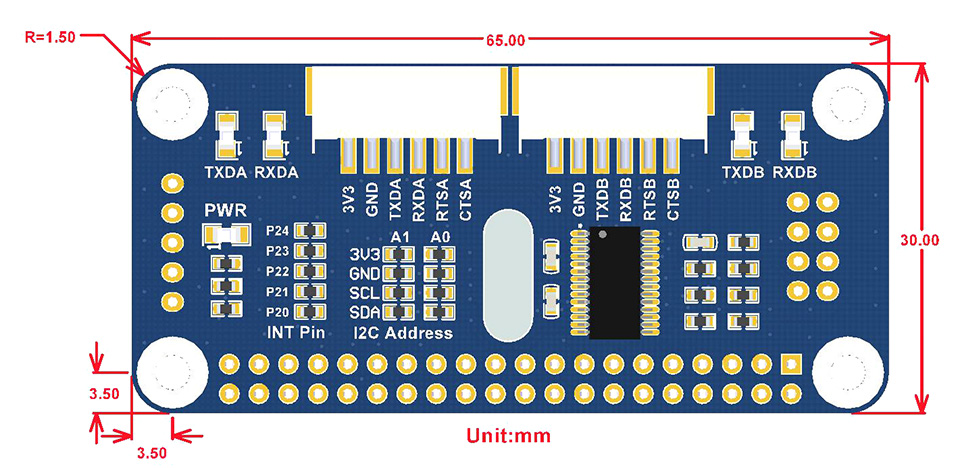 Development Resources
Wiki : www.waveshare.com/wiki/Serial_Expansion_HAT
Лавлах утас: 99198321
Хаяг : Улаанбаатар хот, Чингэлтэй дүүрэг, Компьютер ланд, 3-н давхар, 12 тоот
"ЧИП ЭЛЕКТРОНИКС" ХХК
© Copyright – 2021 chip.mn