Solar Power Management Module
Solar Power Management Module, for 6V~24V Solar Panel
SKU: 16120
Part Number: Solar Power Manager (EN)
Brand: Waveshare
Package content:
Solar Power Manager x1
Weight: 0.029 kg
CAUTION: DO NOT put any non-rechargeable battery, like dry cell, into the battery holder. Serious consequences including explosion may occur if you try to charge a non-rechargeable battery.
Overview
This solar power management module is designed for 6V~24V solar panel. It can charge the 3.7V rechargeable Li battery through solar panel or USB connection, and provides 5V/1A regulated output.
The module features MPPT (Maximum Power Point Tracking) function and multi protection circuits, therefore, it is able to keep working with high-efficiency, stability, and safety. It is suited for solar powered, low-power IoT, and other environmental protection projects.
Features
– Supports MPPT (Maximum Power Point Tracking) function, maximizing the efficiency of the solar panel
– Supports solar panel / USB connection battery charging
– For 6V~24V solar panel, DC-002 jack input or screw terminal input
– Onboard MPPT SET switch, select the level closed to input level to improve charging efficiency
– Two 5V output interfaces: pinheaders and USB port
– Onboard high capacity aluminum electrolytic capacitor and SMD ceramic capacitor, reducing the ripple, stable performance
– 14500 battery holder and PH2.0 battery connector, for connecting multi kinds of 3.7V rechargeable Li battery
– Several LED indicators, for monitoring the status of solar panel and battery
– Multi protection circuits: over charge / over discharge / reverse protection / over heat / over current, stable and safe to use
Specifications
– Solar panel input voltage (SOLAR IN): 6V~24V
– Micro USB input voltage (USB IN): 5V
– Pinheader / USB output (USB OUT): 5V 1A
– Charging cutoff voltage: 4.2V±1%
– Over discharging protection voltage: 2.9V±1%
– Solar panel charge efficiency:: ~78%
– USB charge efficiency:: ~82%
– 3.7V battery boost output efficiency: ~86%
– Max quiescent current: <2mA
– Operating temperature: -40℃~85℃
– Dimension: 65.2mm × 56.2mm × 22.9mm
What's on Board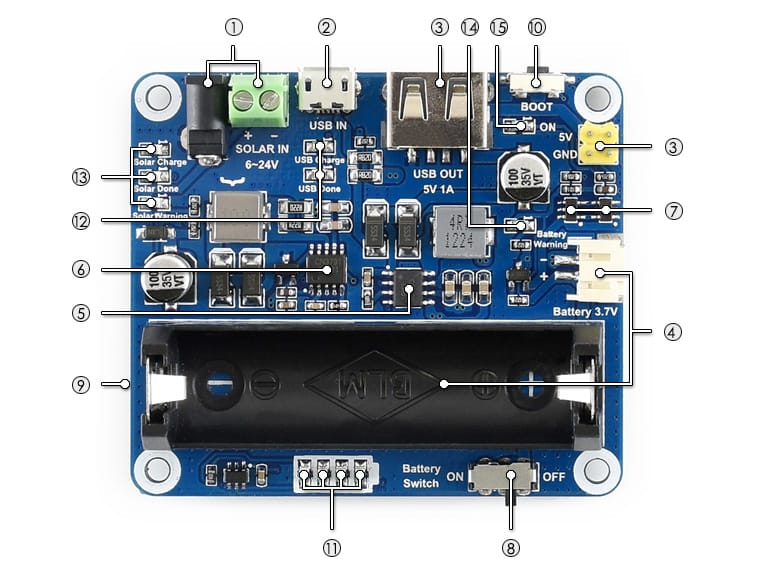 Solar panel charging input: charged by solar panel, DC-002 jack or screw terminal
USB charging input: charged by USB connection, connect a 5V power adapter through the Micro USB port
5V/1A power output: provides regulated 5V/1A output, USB port or 2.54mm pinheader
Battery interfaces: for connecting 3.7V rechargeable Li battery, PH2.0 connector or 14500 battery holder
CS8501: USB power management chip, for USB charging and 5V/1A boost output
CN3791: solar power management chip, for solar panel charging and buck input
Li battery protection chip: Li battery over charge / over discharge protection
Battery switch
MPPTSET switch (bottom side):
supported level: 6V/9V/12V/18V/24V
select the level closed to input level to improve charging efficiency
BOOT key
Battery capacity indicators
USB charging indicators:
USB Charge: on when USB charging
USB Done: on when the battery is full charged by USB
Solar panel charging indicators:
Solar Charge: on when solar panel charging
Solar Done: on when the battery is full charged by solar panel
Solar Warning: on when solar panel reverse connection
Battery warning: on when battery reverse connection
Power output indicator: 5V/1A output
Application Example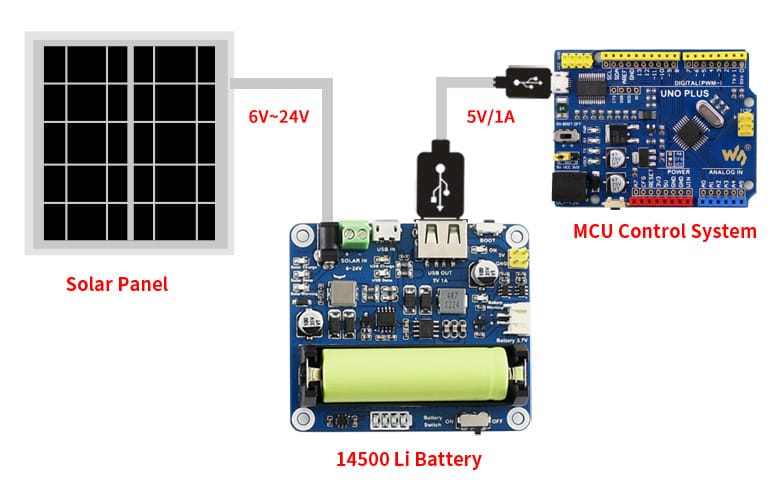 Dimension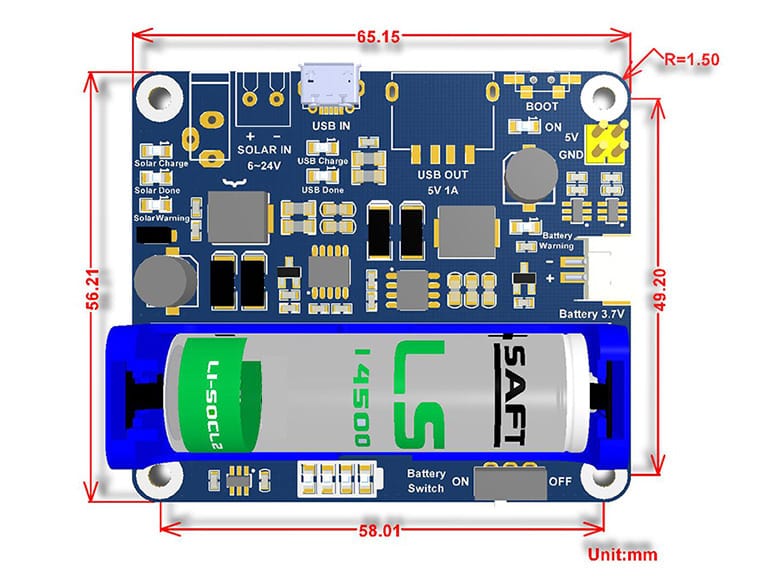 Development Resources
Wiki : www.waveshare.com/wiki/Solar_Power_Manager
Recommendation
Applicable solar panel: Solar Panel (6V 5W)
Лавлах утас: 99198321
Хаяг : Улаанбаатар хот, Чингэлтэй дүүрэг, Компьютер ланд, 3-н давхар, 12 тоот
"ЧИП ЭЛЕКТРОНИКС" ХХК
© Copyright – 2023 chip.mn