TOF Laser Range Sensor, 5m
TOF Laser Range Sensor, UART / CAN Bus, Cascading Support, Ranging up to 5m, with Software
SKU: 18301
Part Number: TOF Laser Range Sensor
Package content:
TOF Laser Range Sensor x1
GH1.25 4PIN wire x1
GH1.25 4PIN squid wire x1
The USB TO TTL is recommended for easy testing.
Weight: 0.008 kg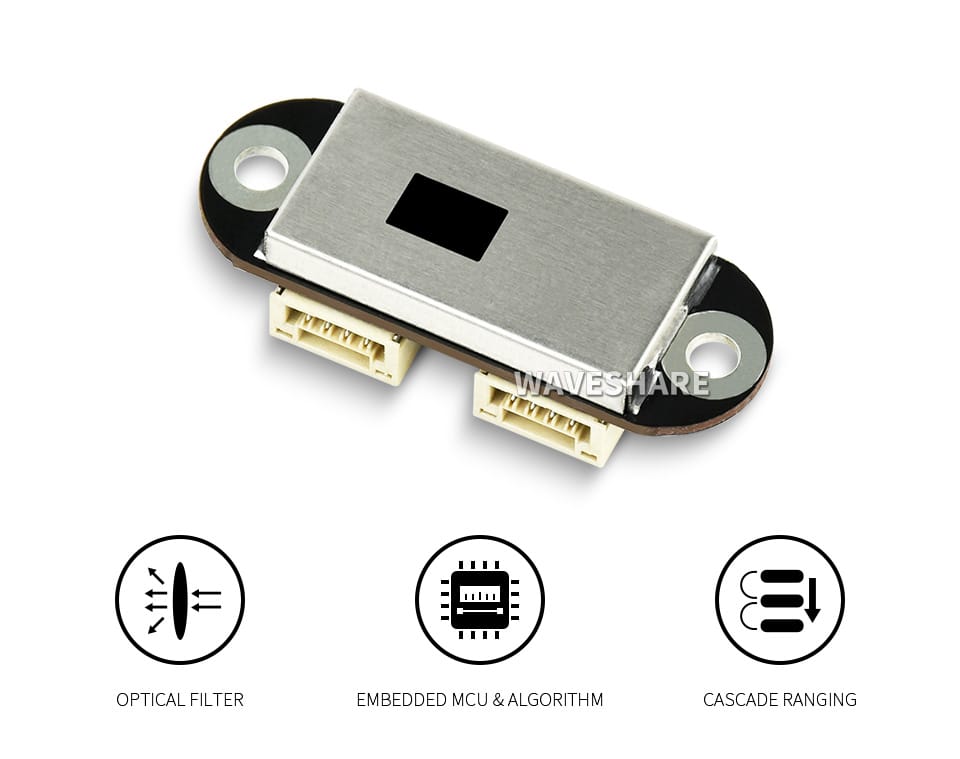 The TOF Laser Range Sensor is a TOF-based (time of flight) laser ranging sensor with embedded MCU and ranging algorithm, which is capable of offering up to 5m measuring range, ±1.5cm accuracy, and 1mm resolution. It supports cascade ranging via UART or CAN bus, configurable data output including active output and query output.
This sensor can be widely used in applications like common distance measuring, robot obstacle avoidance / route planning, as well as drone altitude setting / ceiling detection, and more…
---
Specifications
TYPICAL MEASURING RANGE
Short range: 0.012~2.16m
Mid range: 0.012~3.60m
Long range: 0.01~5.00m
TYPICAL MEASURING ACCURACY
Short range: accuracy ±1.0cm, standard deviation<0.3cm
Mid range: accuracy ±1.0cm, standard deviation<1.5cm
Long range: accuracy ±1.5cm, standard deviation<[email protected]~3m, standard deviation<8cm@3~5m
RESOLUTION
1mm
WAVELENGTH
940nm (Class1 standard compliant)
FIELD OF VIEW (FOV)
15°~27° (adjustable)
COMMUNICATION INTERFACE
UART: both of the two ports can be used as UART simultaneously, 3.3V TTL signal level
CAN: both of the two ports can be used as CAN simultaneously
BAUDRATE
UART: 115200~3000000bps (921600bps by default)
CAN: 100000~3000000bps (100000bps by default)
CASCADE SUPPORT
UART: supports up to 8x cascades
CAN: supports up to 7x cascades
POWER SUPPLY
3.7~5.2V
POWER CONSUMPTION
290mW (UART active output, long-range mode, 5.0V power supply, 58mA current)
WEIGHT
2.7g
DIMENSIONS
(L × W × H)
35.58 × 12 × 8.05mm
Embedded MCU & Ranging Algorithm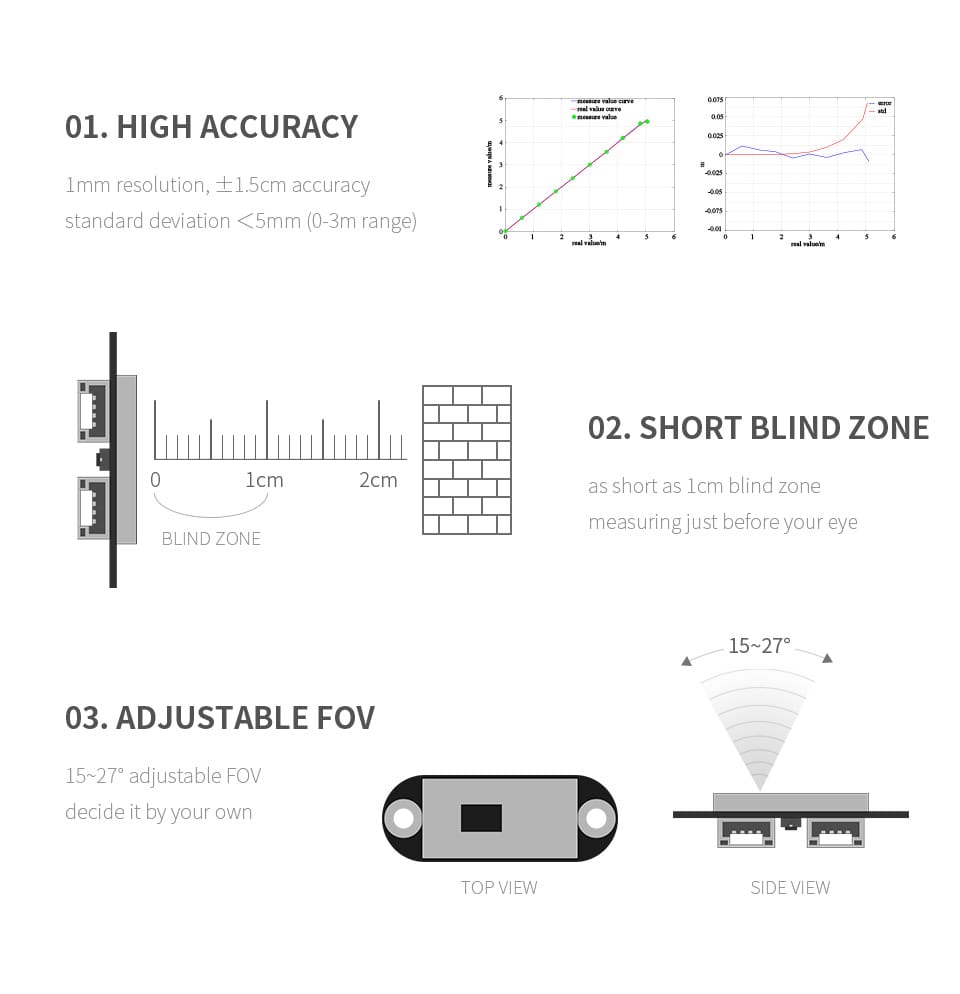 ---
UART / CAN Support, Configurable Output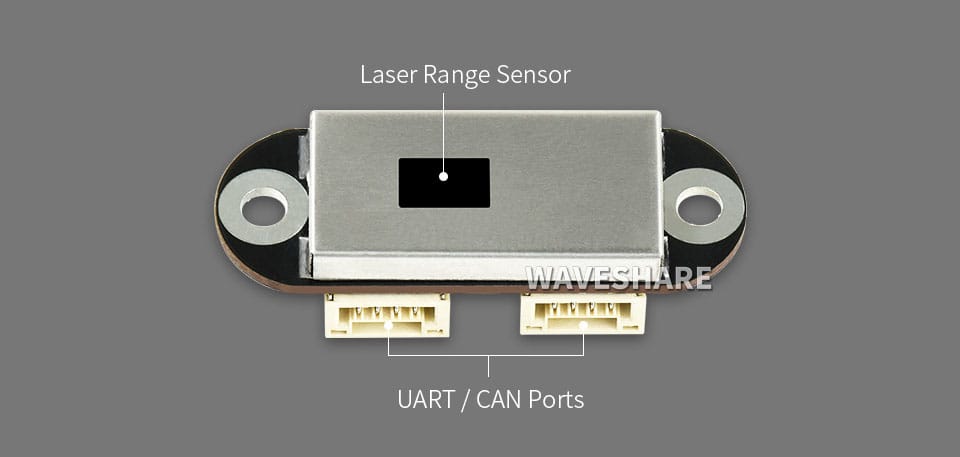 UART / CAN COMMUNICATION
Configurable communication bus, providing two ports (identical electric connection) for cascade ranging
ACTIVE OUTPUT / QUERY OUTPUT
Configurable data output mode, make it more flexible to acquire data
---
Cascade Ranging Support
Multiple sensors can connected in series thanks to onboard two identical ports, and each sensor can be configured with an ID,
therefore, the ranging data of all sensors can be acquired through one single communication bus.
When using cascade ranging, three output modes are available: UART query, CAN query, and CAN active output
Up To 8x Cascades On UART Bus, Up To 7x Cascades On CAN Bus

---
Comes With Assistant Software
Provides Host Computer Assistant Software, Offering Functions Including Sensor Configuration, Wave Form Monitor, Data Analysis, Data Record Export And Replay, Firmware Upgrade, And So On.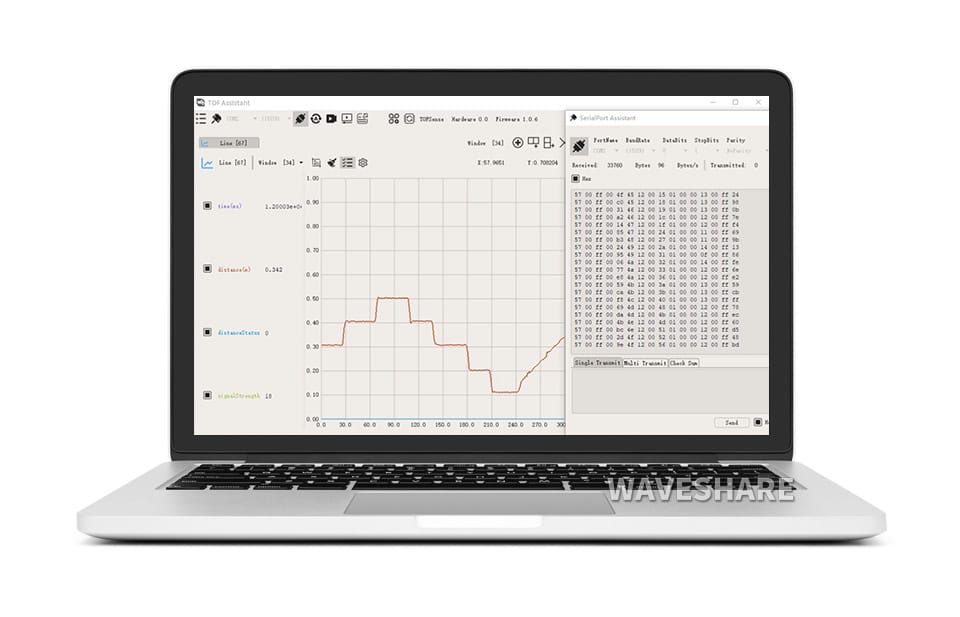 ---
Applications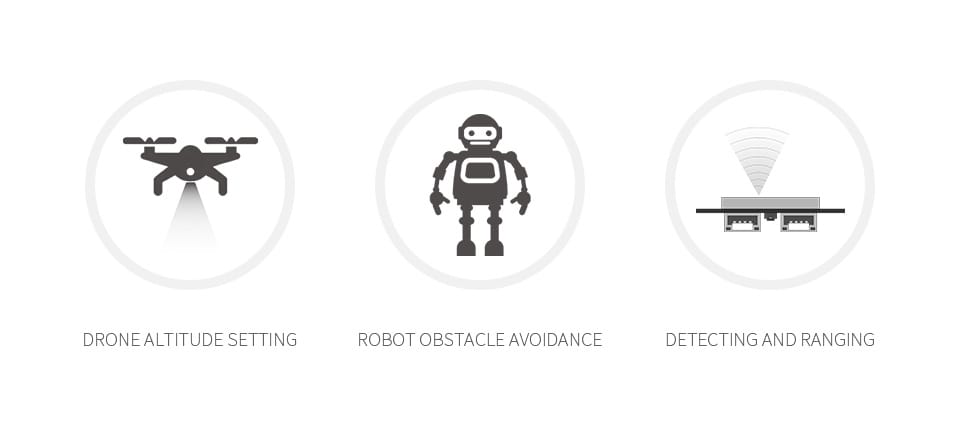 ---
Hardware Connection
Connecting With Raspberry Pi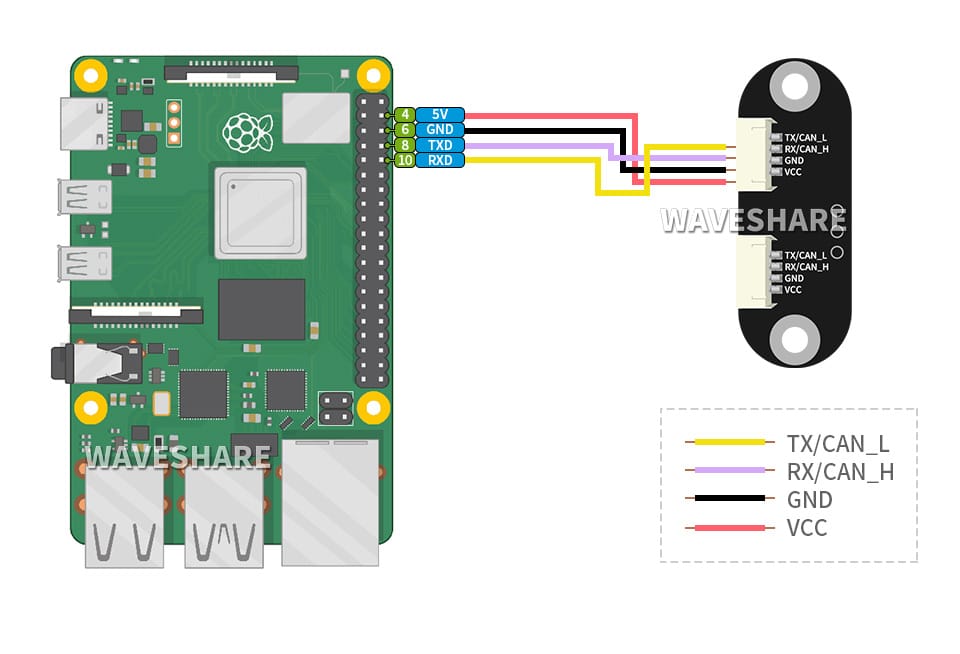 Connecting With Arduino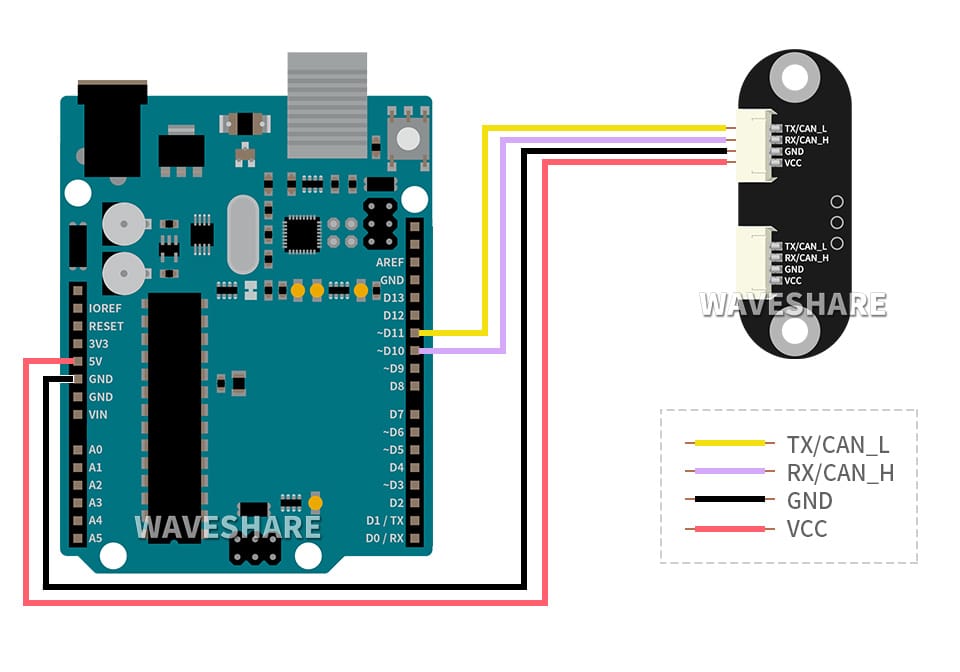 ---
Outline Dimensions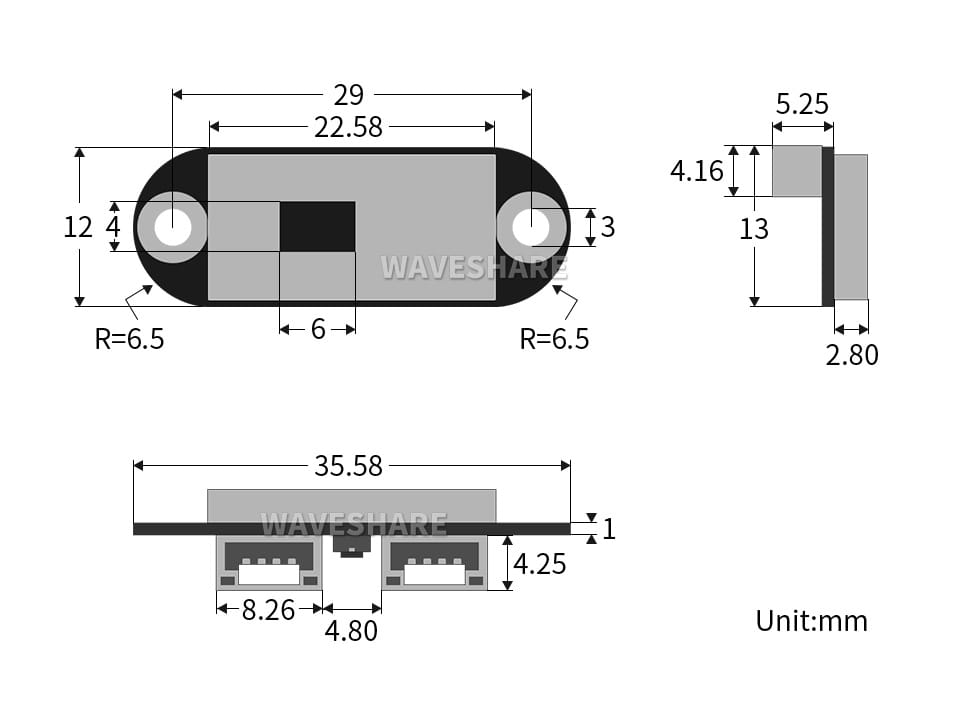 ---
Selection Guide
TOF LASER RANGE SENSOR
TOF LASER RANGE SENSOR (B)
Typical measuring range
Short range: 0.012~2.16m
0.10 ~ 15.0m
Mid range: 0.012~3.60m
Long range: 0.01~5.00m
Typical measuring accuracy
Short range: accuracy ±1.0cm, standard deviation<0.3cm
0.10 ~ 2m ±2cm; 2 ~ 15m ±2%
Mid range: accuracy ±1.0cm, standard deviation<1.5cm
Long range: accuracy ±1.5cm, standard deviation<[email protected]~3m, standard deviation<8cm@3~5m
Resolution
1mm
Power supply
3.7~5.2V (reverse-proof)
Operating temperature
-10°C ~ 60°C
Wavelength
940nm (Class1 standard compliant)
750 ~ 830nm, compliant with IEC 60825-1:2014 version 3 Class2 standard
Field of view (FOV)
15°~27° (adjustable)
1° ~ 2°
Communication interface
UART (3.3V TTL signal level)
CAN (both of the two ports can be used as CAN simultaneously)
I2C (cascading support, the slave address is 0x08+module ID)
Baudrate
UART: 115200~3000000bps (921600bps by default)
CAN: 100000~3000000bps (100000bps by default)
I2C: up to 400Kbps
Cascade support
UART: supports up to 8x cascades
I2C: supports up to 8x cascades
CAN: supports up to 7x cascades
Ambient light resistance
weak resistance, indoor only
about 100K LUX resistance, suits both indoor and outdoor
Power consumption
290mW (UART active output, long-range mode, 5.0V power supply, 58mA current)
610mW (UART active output, 5.0V power supply, 122mA current)
Weight
2.7g
7.7g
Dimensions
(L × W × H)
35.58 × 12 × 8.05mm
22.7 × 28 × 13.6mm
Лавлах утас: 99198321
Хаяг : Улаанбаатар хот, Чингэлтэй дүүрэг, Компьютер ланд, 3-н давхар, 12 тоот
"ЧИП ЭЛЕКТРОНИКС" ХХК
© Copyright – 2023 chip.mn