Sense HAT (B) for RPi, Multi Powerful Sensors
Sense HAT (B) for Raspberry Pi, Onboard Multi Powerful Sensors, Supports External Sensors
SKU: 16864
Part Number: Sense HAT (B)
Brand: Waveshare
UPC: 614961955486
Package content:
Sense HAT (B) x1
RPi screws pack (2pcs) x1
2x20PIN female header x1
Weight: 0.019 kg
Overview
The Sense HAT (B) is specially designed for Raspberry Pi, integrates multi powerful sensors such as gyroscope, accelerometer, magnetometer, barometer, temperature and humidity sensor, etc. It is communicated via I2C interface, and allows to connect more external sensors if you need.
Trying to make the Pi become a robot that can detect movement and orientation? Or using the Pi to collect environmental temperature, humidity, and barometric pressure data? This HAT would be your ideal choice.
Features
– Standard Raspberry Pi 40PIN GPIO extension header, supports Raspberry Pi series boards
– Onboard ICM20948 (3-axis accelerometer, 3-axis gyroscope, and 3-axis magnetometer), detects movement, orientation, and magnetic
– Onboard SHTC3 digital temperature and humidity sensor, allows monitoring the environment
– Onboard LPS22HB barometric pressure sensor, allows monitoring the environment
– Onboard TCS34725 color sensor, identifies the color of nearby object
– Onboard ADS1015 ADC, 4-ch 12-bit precision, AD expansion to support more external sensors
– Brings I2C control pins, for connecting other host boards like STM32
– Comes with development resources and manual (examples for Raspberry Pi/STM32)
Specifications
– Operating voltage: 3.3V
– Communication interface: I2C
– Logic level: 3.3V
– Dimensions: 65mm x 30.5mm
Comparison
SENSE HAT (B)
PI FOUNDATION SENSE HAT
REMARKS
Gyroscope
Ranging: ±250/500/1000/2000 dps
Resolution: 16-bit
Ranging: ±245/500/2000 dps
Resolution: 16-bit
Type (B) provides more angular velocity range option
Accelerometer
Ranging: ±2/4/8/16 g
Resolution: 16-bit
Ranging: ±2/4/8/16 g
Resolution: 16-bit
Magnetometer
Ranging: ±49 gauss
Resolution: 16-bit
Ranging: ±4/8/12/16 gauss
Resolution: 16-bit
Type (B) has wider magnetic range
Barometer
Ranging: 260 ~ 1260 hPa
Accuracy (ordinary temperature): ±0.025hPa
Speed: 1 Hz – 75 Hz
Ranging: 260 ~ 1260 hPa
Accuracy (ordinary temperature): ±0.1 hPa
Speed: 1 Hz – 25 Hz
Type (B) measures the barometric pressure more precise and faster
Temp & Humidity
Accuracy (Humidity): ±2% rH
Ranging (Humidity): 0% ~ 100% rH
Accuracy (Temp): ±0.2°C
Ranging (Temp): -30 ~ 100°C
Accuracy: ±4.5% rH
Ranging: 20% ~ 80% rH
Accuracy (Temp): ±0.5°C
Ranging (Temp): 15 ~ 40°C
Type (B) has higher precision and wider range
Misc
Color Sensor
High precision 12-bit ADC
8×8 RGB LED matrix
Five-button joystick
Type (B) features color sensor, and supports more external AD sensors
What's on Board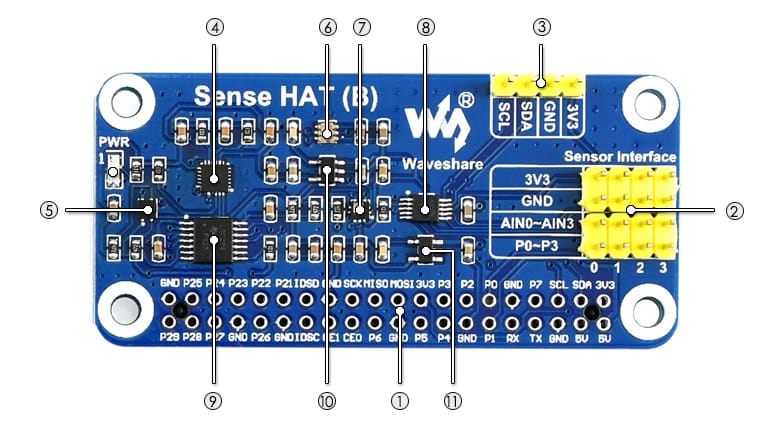 Raspberry Pi GPIO connector: for connecting with Raspberry Pi
Sensor Interface: for external sensors
I2C extension header: for connecting host boards like Arduino/STM32
ICM-20948: 9-axis movement sensor
SHTC3: temperature and humidity sensor
TCS34725: color sensor
LPS22HB: barometric pressure sensor
ADS1015: 12-bit ADC
LSF0204PWR: 4-ch voltage level translator
RT9193-18: 1.8V linear regulator
RT9193-33: 3.3V linear regulator
Dimension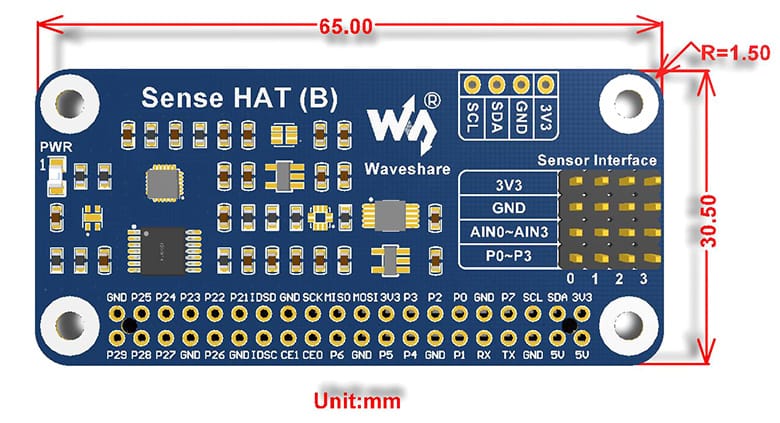 Development Resources
Wiki : www.waveshare.com/wiki/Sense_HAT_(B)
Лавлах утас: 99198321
Хаяг : Улаанбаатар хот, Чингэлтэй дүүрэг, Компьютер ланд, 3-н давхар, 12 тоот
"ЧИП ЭЛЕКТРОНИКС" ХХК
© Copyright – 2021 chip.mn